API Token: Allows you perform admin actions using our API. For receiving the API manual, contact our support representatives.
Billing Server / Webhooks Server: If you're interested in having the option to download sites, let us know. We can arrange a chat/phone for you on this subject.
Custom Templates: Allows you to edit your label's templates bank. Your templates bank can be seen at the address www.yourdomaim.com/themes /subdomain.yourdomain.com/themes.
Leave it on Default, if you want to offer the exact same variety we offer our clients.
Custom – change it to custom, if you wish to edit our default templates bank. With the first time that you move to Custom, the current identity of our templates bank will be used as the base for your custom templates bank. From now own, our new templates won't be added automatically to your bank – you're on your own.
Templates manager – upon moving to Custom, you will have the option to access our templates manager. There, you can add/remove templates and templates categories. 
Click on 'Create a new category' to create new category.
Click on an existing category to add/remove its templates.
Inside an existing category:
Click on 'Add vbid to category' to add a new templates to the category. To add a new template, you need to pull one of your existing sites from your own XPRS account. Each edited site has a unique code - this is its vbid. You can find the vbid when editing the site. Check out the site's URL, and find the vbid at the end of it. It's in the form of - vbid-5b321-hauc2qhejv. Copy it without any extra characters, such as hashtag or space. Add it to the 'vbid to add' text box, on the template manager, and that's it.
After adding a template, make sure to hit the 'cache' button, which is located on the template thumbnail. You'll also see under each thumbnail few options. These options will allow you to adjust the thumbnail of each template, as it appears on your templates page. Hover above each button to see its function.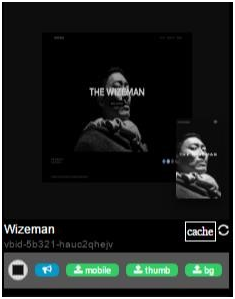 To change a template name, just click on the its name and start typing.
Resellers: Allow\Disallow your users to become a reseller of you.
IOS App: Allow\Disallow your users sites to generate a link to our app.
We currently have the iOS app and we can provide a white label version of it.
For the app to be listed under you name/brand, you will need to have an active Apple iOS developer account and provide us with admin access to that account. 
If you don't have one, we can open one for you with an additional cost.
You then will need to provide us with the image resources (icon, splash intro screen etc..) and you can have you own branded app in the store.
The app will update along with our regular periodic updates, adding more features, adapting to the new iOS versions and more...
Apple developer Program:
https://developer.apple.com/programs/enroll/
Add New Sites: Allow\Disallow your users to add new sites in their account.
Ecommerce: Allow\Disallow your users to sell products on their sites.
Page Limit: Limit the number of pages a user can create. Just enter the number.
Allow Backups: Allow\Disallow your users to create backups of the website. This option is available only for premium users.
Allow Blog: Allow your users to add a new Blog stripe. Not all resellers wish that, as some users find it complicated to use.
Peripheral Pages: Allow\Disallow your users to access the /start and the /my_sites pages. This means that they won't be able to create new sites.
Elements in stripe menu: Allow\Disallow your users to add elements to their sites. Elements are stripes with a single function. These are our current elements:

Phone in registration: Request phone number from your clients upon creating their account.
User Login: show/un-show the sign-in button at the top-right side of the screen.
Call me checkbox: Include / Exclude the following checkbox: "I Want a customer service representative to call me today" on the registration form. 
Default Editor Language: Set your users' accounts default site. Each user can latter change the language through his account.
* Ecommerce Solution and SR partner key are not usable at the moment.